Description
THE LANDMARK BRITISH SILVER COIN YOU REALLY SHOULD OWN – THE QUEEN ELIZABETH II 2013 SILVER FIVE OUNCE COIN!
In 2013 the Royal Mint produced what was to be a milestone in British coinage – The Queen Elizabeth II 2013 Silver Five Ounce Coin. For some time Britain had produced silver coins for collectors and bullion investors known as the Britannia Series – but these coins had only ever been produced in sizes up to 1oz.
Then, in 2013, the Britannia had its purity increased to 99.9% and in the same year a new, massive 5oz coin was introduced! The new coin gained instant global success: it is  suspected that around half the entire mintage of the new 5oz was sold in the USA alone!
As a result, The Queen Elizabeth II 2013 Silver Five Ounce Coin is seldom available in Britain – but we have tracked down a small quantity.
A FIVE OUNCE, 65MM DIAMETER TRIBUTE TO BRITAIN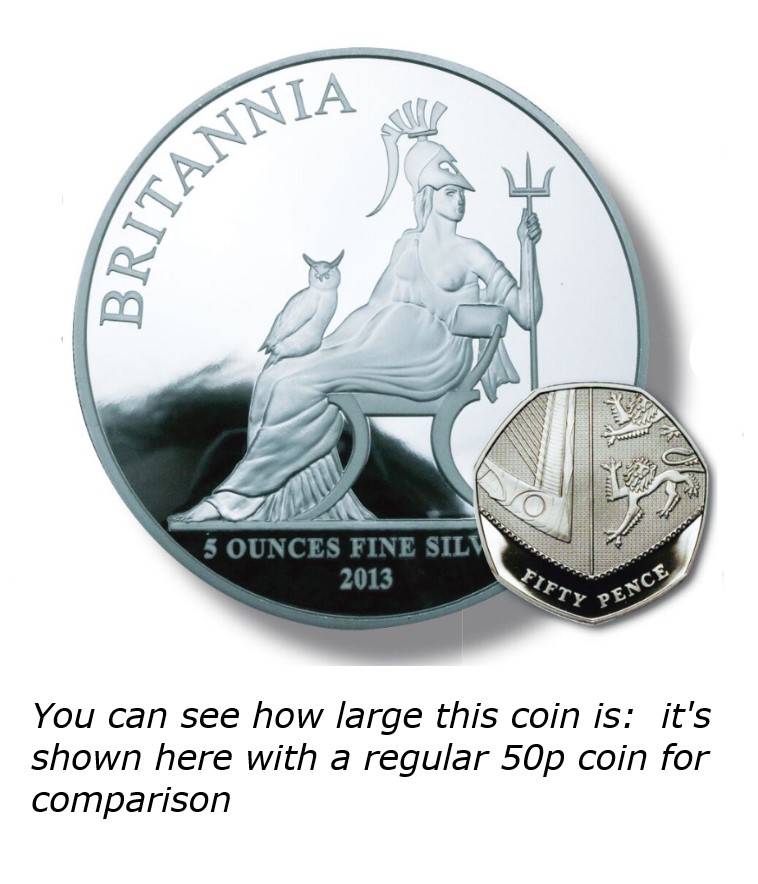 At 65mm (2½") diameter and five ounces (156gm) in weight this is a hefty silver tribute to Britain. To put that into context, we've illustrated it above, next to a 50p, with both coins at actual size! However, what you can't see is the sheer presence of the silver five ounce because not only is it 65mm across but it is around 5mm thick as well! It's an impressive silver beauty indeed.
LEGAL TENDER – BUT AT THIS SIZE NOT MEANT TO BE SPENT!
So that this coin is British legal tender it was given a face value of £10, although in reality the collector value, and of course the bullion value of the five ounces of pure silver from which it is made, are both far greater. This ensures it never enters circulation.
NOT AVAILABLE TO EVERYONE WHO'D LIKE ONE
Making a coin like this isn't without its technical challenges – it's time consuming and expensive – so the mint kept the number of coins produced LOW at just 4,650. That's right, fewer than five thousand people worldwide can ever own one.
DID YOU MISS THIS WHEN RELEASED?
This is one of the most important coins of Her Majesty's reign. If you weren't buying coins in 2013 or missed this when it was originally released then take this opportunity to secure one for yourself now. Your coin will come in a protective holder, along with a numbered Royal Mint Certificate of Authenticity, and full colour illustrated booklet on the history of the Britannia silver coins.
This is one of our most important silver coins, and with a hint of controversy about its design, is sure to be sought after by collectors for years to come.